Enjoy studying with me Online – Specialisation in WordPress
Become a wordpress designer and learn how to make beautiful divi / elementor layouts and lots more. Start your wordpress design journey today.
100% online
Format – Live classes
Duration
Approx. 40 hours to complete
This course is for anybody looking for a career building WordPress websites or themes, or even hobbyists looking to learn a new skill.
We begin the course by getting familiar with WordPress and looking at how to install using a localhost.
Beginning with a music festival landing page, where you will get to grips with the new Gutenberg editor. We also look at widgets, adding pages, installing themes and the media library.
We then look at the WordPress essentials such as blog posts, pages, navigation menus and installing themes, all while building your very own blog website.
Once we have the basics covered, we move onto customising our blog using sliders, widgets, header images and working with the customiser. You will also get the chance to optimise your website for search engines and create backups.
The third project takes your WordPress knowledge even further. We create a fully functional eCommerce T-Shirt store. More techniques are introduced throughout this project such as dealing with products, categories, shipping, taxes, all while building a beautiful, custom website.
After completing the first 2 projects, we move things on even further by introducing you to WordPress Divi layouts designing by converting an existing PSD design website to a fully functional WordPress Divi layouts. This section involves in DIVI or Elementor builder.
This project introduces new techniques and you will gain a deeper knowledge of how WordPress DIVI or Elementor layouts are created. You will learn how WordPress templates are used and learn about various WordPress functions to design our layouts.
Finally, the last section will be focused on useful techniques to add to your WordPress knowledge. Here we will cover exporting your localhost websites to a live server, various plugins etc.
All images and files etc you will need is included to download, there is also need no extra software, subscriptions or purchases etc to complete or take this course.
So are you ready to take your web design or WordPress skills to the next level?
Join me now and I look forward to having you on board!
We will build 3 sites together:
A portfolio website.
A blog website.
A eCommerce website.
52%
Started a new career after completing these courses
46%
Got a tangible career benefit from this course
14%
Got a pay increase or promotion
Who am I?
I'm Mohammad, and I've been building websites for about 7 years now. Sharing is who I am, and teaching is where I am at my best, because I've been on both sides of that equation, and getting to deliver useful training is my meaningful way to be a part of the creative community.
Syllabus – What you will learn from this course
Why WordPress?
WordPress.org or WordPress.com?
Where To Find WordPress Themes
The WordPress Web Server
Option1: Installing With Local (recommended)
Option 2: Installing With XAMP
The WordPress Dashboard
Portfolio Website Project: What we will be building
Portfolio Website Project: Installing Themes
Portfolio Website Project: Creating Our First Page
Portfolio Website Project: The Media Library
Portfolio Website Project: The Gutenberg Editor
Portfolio Website Project: Widgets
What we will be building
WordPress Blog: Project Setup
WordPress Blog: Adding And Updating Posts
WordPress Blog: Where To Find Great Photos For Your Blog Posts
WordPress Blog: Including Media
WordPress Blog: Users, Permissions & Managing Comments
WordPress Blog: Adding Pages
WordPress Blog: Adding Our Navigation Menu
WordPress Blog: The Customizer In More Detail
WordPress Blog: Adding Header Images
WordPress Blog: Adding a Background Image
WordPress Blog: Plugins & Social Media Integration
WordPress Blog: Home Page Setup & Widgets
WordPress Blog: Creating The Footer
WordPress Blog: Adding a Slider
WordPress Blog: Creating The Contact Form
WordPress Blog: Improving SEO
WordPress Blog: Backing Up Your Site
WordPress eCommerce: Project Setup
WordPress eCommerce: Getting Started With WooCommerce
WordPress eCommerce: Product Categories, Tags & Attributes
WordPress eCommerce: Adding Products
WordPress eCommerce: Variable Products
WordPress eCommerce: Home Page Layout & Slider
WordPress eCommerce: Customising The Look Of Our Store
WordPress eCommerce: Flexible Layouts Using Page Builder (Divi or Elementor)
WordPress eCommerce: Rearranging Menus
WordPress eCommerce: The Footer Area
WordPress eCommerce: WooCommerce Settings & Managing Your Store
Divi / Elementor Builder: Introduction
Divi / Elementor Builder: Setup
Divi / Elementor Builder: Berif about module or components
Divi / Elementor Builder: Design Customization
Divi / Elementor Builder: Convert PSD to Layout
WordPress Multisite: Intro
WordPress Multisite: What is a multisite?
WordPress Multisite: Activating a WordPress network
WordPress Multisite: Adding sites to a network
WordPress Multisite: Users & the super admin
WordPress Multisite: Plugins & themes
WordPress Multisite: Allowing users to add websites to the network
Bonus Lectures: Uploading to a live server
Bonus Lectures: Essential plugins
Still Not Convinced ?
Take A Free Demo Now!
Hey,
Look at related course
UI/UX Design
Adobe XD / Photoshop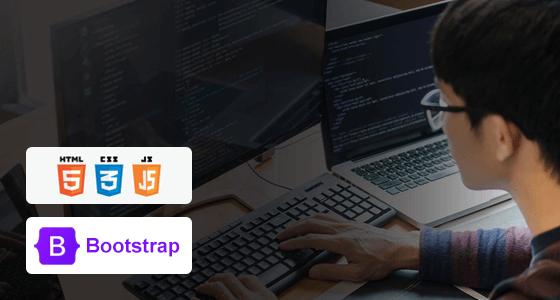 Web Designing
HTMl, CSS, Bootstrap